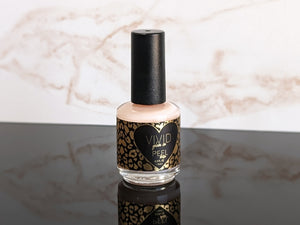 Peel Base
Listing includes one 15mL bottle of Peel Base (air dry formula). 
Peel Base is great for switching up your manicures often! This product is intended to remove nail enhancements (polish, gel, or dip powder) as an alternative to the traditional acetone soak off.
Nail enhancements will last between 1-7 days with Peel Base application. Results will vary. The more nail coverage and layers used, the less time the nail enhancements will last.
The trick to successful peel base application is simply finding which method works best for you and your nails!
Application:
Step 1: Prep nails as normal and clean nail surface.
Step 2: Apply 1-3 thin layers of Peel Base before applying nail enhancement product. Let each layer dry completely before applying the next layer. Wait 3-5 minutes before applying your nail enhancements. 
Avoid painting on cuticles for maximized wear.
Step 3: Apply nail enhancements over Peel Base.
Nail Enhancement Removal:
Step 1: File the edges and gently wedge the tip of an orange stick or slide a dental flosser under the 'lifting' between the nail and enhancement until it releases from the nail. Never remove your nail enhancements by force, it can cause damage to the nail and peel layers off the top.
Step 2: Clean any remaining residue with a Q-Tip or lint free cloth and nail polish remover.
Special notes:
If you are experiencing lifting within 12 hours with one full coat of peel base, you may try lightly buffing the nail prior and apply only one strip of peel base down the center of the nail.
If you are having difficulty with removal after one week with 3 full coats of peel base, you may try applying a dip base coat (fully dry) or gel base coat (fully cured) before your peel base application. The smoother the surface the less the nail has to stick to, helping with removal.
If you have fragile nails and experience breakage with removal you may try applying two coats of clear dip powder (activated and buffed smooth) prior to your peel base application.
Product contains: Polyurethane-1, Propylene Glycol, Stearalkonium Bentonite, Hyluronic Acid
Storage: Always store liquids with lids tightly closed facing upright in a cool, dry area.
If an allergic reaction should occur, discontinue use immediately and contact your physician.
Keep out of reach of children.
Peel Base
Initially, I used before any enhancements but they popped off within a day. So, I now apply a layer of clear dip and then use a line of peel base in the middle of each finger, this works well. I have no issues with lifting & if I want to change out colors, I just soak them off with acetone & coconut oil.
I'm really glad to hear you found the method that works best for you, that's what it's all about. I appreciate your feedback so much!
Xo,
Logan
Dip powder
Didn't like how it wouldn't take my debit card only a credit card and how I had to download an app to track my order. Products are lovely tho haven't used the peel base yet