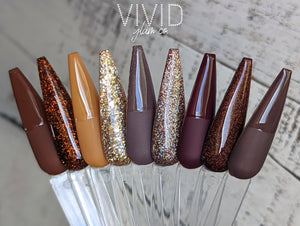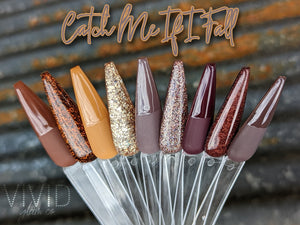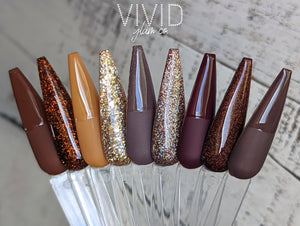 Catch Me If I Fall Collection
Full Collection - All 9 Shades
Left to right:

CHARMING - Warm brown, solid.
ENTICE - Dark fiery orange, metallic fine glitter
SMITTEN - Butterscotch yellow, solid.
ADORE - Gold holographic, fine glitter.
INFATUATE - Grey Mauve, solid/shimmer.
 EUPHORIA - Grey Mauve, fine glitter.
ALLURE - Dark plum, solid.
LUST - Dark plum holographic, fine glitter.
CAPTIVATE - Cool brown, solid.
*These can also be found listed individually on the website.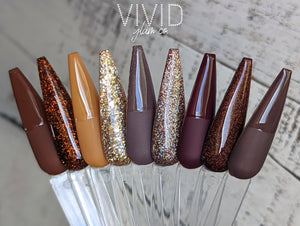 Fall colors
I'm so beyond happy with this lineup! Can't wait to swatch them!
Great colors
I'm a lover of darker colors and what's disappointing when there always pink in sets! This set didn't thank you
Catch Me if I Fall
Omgosh the colors are so Gorgeous. I think my fav of all the Collections I have. You can mix and match them all.
Great!
I love all the colors and have used 2 of the solid colors and 2 of the glitter colors so far! I also love all the liquids that I got and find this system much less..aromatic than some of the others on the market!
Thanks for the feedback, Deanna. I'm happy to hear you are enjoying the dip powders & the liquids!
Xo,
Logan
So pretty!
When I saw this collection on TikTok I ran to look for them. I did look up the company because I wasn't familiar and everything checked out so I ordered the collection and tried them as soon as I got them. They are all so pretty and came in very quickly! I loved them so much I ordered another set that looked just as pretty!