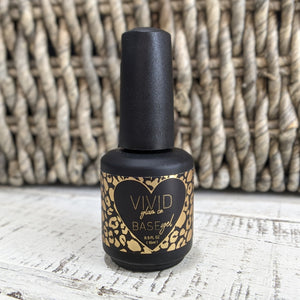 Gel Base Coat
Listing Includes one 15mL bottle of Gel Base Coat.
Product requires UV/LED light to dry. Cure 60s LED/120s UV.
Storage: Keep bottles out of direct sunlight, avoid extreme exposure to LED or UV light. Always store liquids with lids tightly closed facing upright in a cool, dry, and well ventilated area away from spark or fire. 
Ingredients: Cab 381-0.5,  2-Hydroxyethyl methacrylate, Bht, Thermoplastic polyolefins, Acryloylmorpholine,  Urethane Acrylate
Products may cause eye, skin, or respiratory irritation. If an allergic reaction should occur, discontinue use immediately and contact your physician.
Keep out of reach of children.
Best Gel Base Hands Down
Logan has the best Gel Base and Top Coat around!! Clear doesn't usually work well with gel products but this base works amazing with Crystal Glass with no cloudiness at all!! Highly recommend!! I used Crystal Glass on all my glitter and still crystal clear!!
Thanks Samantha, that is such a huge compliment! I appreciate your feedback.
Xo,
Logan